Last week I went into the city to do the kind of work you sometimes do with lawyers, just putting things in place for the future. My sister reminded me to look out for this big bluestone building in William St. It's the Goldsborough Mort building, built in 1862 as a wool warehouse, and later converted into offices.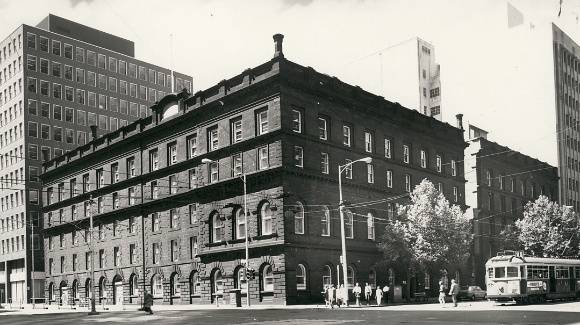 http://vhd.heritage.vic.gov.au/search/nattrust_result_detail/64372
It's an extremely imposing building. I didn't take a photo as I was with my parents and know from experience how hard is to get a big building into a picture close up. And frankly I was preoccupied with my family. And, I thought, I can always go back. But now the significance of the meeting and the moment of registering this building in my mind are knitted very closely together.
I had not anticipated how My Year with Bluestone might become linked in my mind with other milestones. All this is a bit too personal for details here though, so let's focus on the building. I quite like this photo of the corner (from Wikimedia), with the astonishing chimney and the network of tram cables.
But then I thought: what does this building remind me of? And lo and behold: the Medici palace in Florence. Different colour stone, but similar square shape, height, layers of arches, textures of stone. And of course, the Medici were wool merchants, too. Wonder if architect John Gill had this in mind?